At Maranatha our goal is to make this your child's favorite hour of the week!
With high energy music, fun games, and interactive teaching we seek
to communicate the love of God and the story of Jesus to your children
in a way that is relevant and keeps their attention.
INFANTS – 6TH GRADE
Visit grow zone and KIDS zone
While you are in service on Sundays at 10am, your kids will be attending a service that is designed specifically for them. They will check in to their classes in the foyer near the coffee shop & then head to their classes in the Grow Zone (infant to preschool) or to the Kids Zone (K-6th grade) for a great service planned just for them!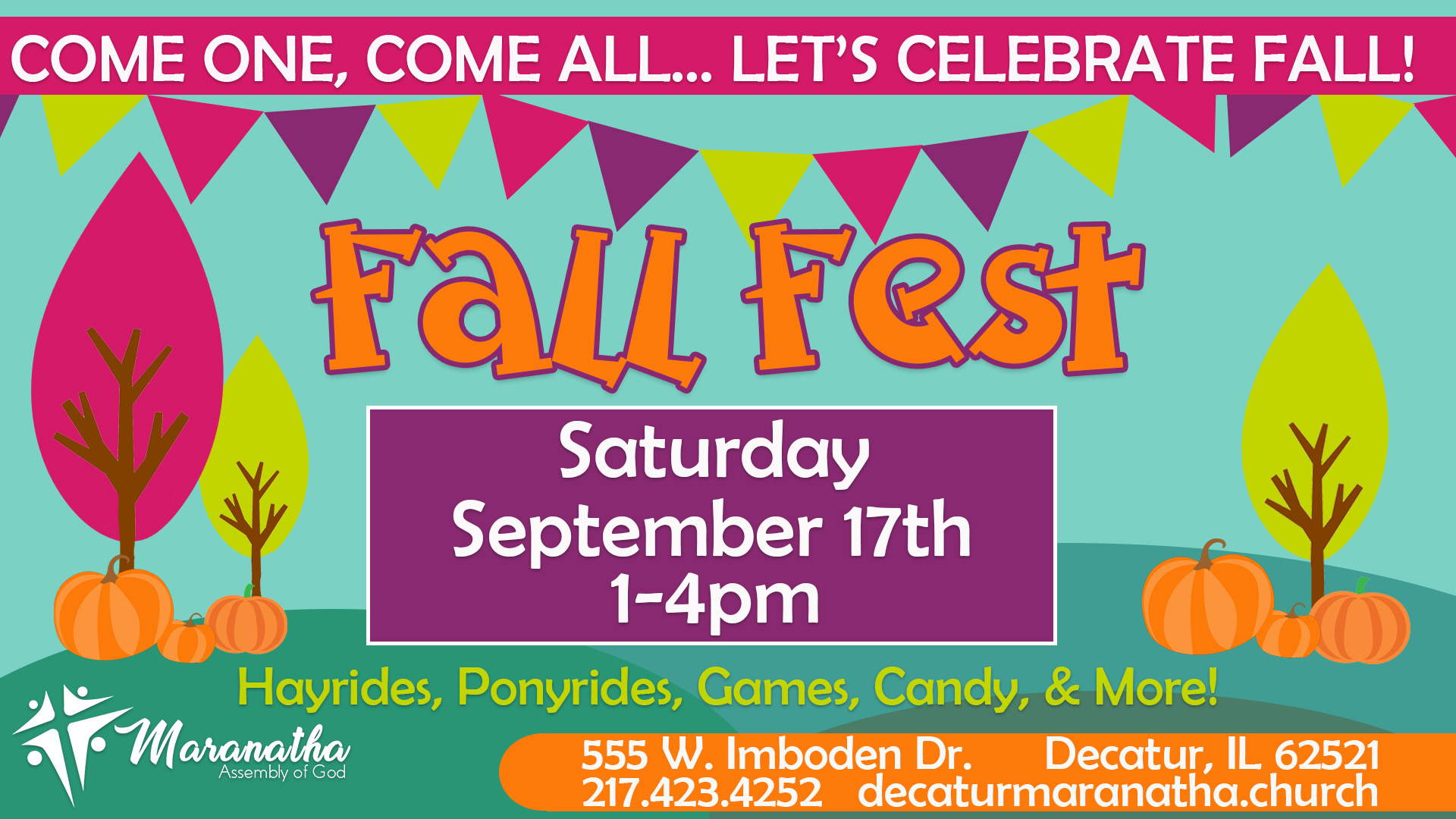 come one, come all… let's celebrate fall
fall fest 
Join us September 17th between 1-4pm for a fall celebration! This is a family friendly event and all ages are welcome! So much to do! Including a hayride, pony rides, games and a BIG Show from an illusionist! All free, but there will be refreshments available for purchase, all proceeds go to missions.  
Sunday MORNINGs – august

major prophets
Starting in August, Vortex Kids will start a new Sermon Series, "Major Prophets". Vortex Kids will be discovering how God used Daniel, Isaiah, Ezekiel and Jeremiah to be different than the world so they can reach others to know God. Each week kids will have fun hand on experiences, a lesson geared specifically for them, games and worship. Check-in starts at 9:45am.  
Sign up to receive text updates from Vortex with Remind. 
Text @vortex7 to 81010 
Guide to Godly Parenting
By: Pastor Amy Gosnell
Want to raise your kids to follow Jesus? Raising kids in today's society is difficult and challenging. Though it may feel like an uphill battle, raising children in a godly home is possible when we look to the Bible as our source for instruction.
Being godly is being Christ-like, and as a parent, it can be difficult to be like Jesus all the time. Here are a few tips from God's Word to help you be a godly parent and build a Jesus following family.
Pray over your children…
As for me, far be it from me that I should sin against the Lord by failing to pray for you. And I will teach you the way that is good and right.
– 1 Samuel 12:23
One of the greatest responsibilities a parent has, is praying for their children. Prayer is like a truck's engine, it's what keeps us going. It builds our relationship with God and makes us strong. Without prayer, our closeness to God can and will fade. Teach your kids how to pray, by example and showing them scriptures on how Jesus instructed us to pray, one example is the Lord's Prayer in Matthew 6:9-13.
In addition to teaching your kids to pray, show your kids how to pray by praying over them. Interceding in prayer for your children can help give them strength and prepare them for the trials they may face in this world. Spend time together as a family praying, remember they are children, so keep it simple and short, and if you miss a day, don't miss two, make prayer a consistent part of your family time.
Teach your children God's Word…
Train up a child in the way they should go, and when they are old, they will not depart from it.
– Proverbs 22:6
Your kids will have to make their own decisions in life. Teaching them the Word of God gives them the opportunity to make the decision to live by God's standards and not the world's standards. When our children don't have a clear understanding of what God's Word says, how can they clearly decipher how to live a righteous life?
The best way for them to learn is from you, do family devotionals daily. It does not matter what time of day, first in the morning or right before bed, whatever works with your schedule. The most important thing is to schedule the time together. Again, this doesn't have to be hard, keep it simple and short, you don't need to have a lot of prep time. Find a devotional book, or open the Bible, read and discuss a passage. But remember, if you miss one day, don't miss another, keep it consistent.
Take your children to church…
Jesus said, "Let the little children come to me. Don't keep them away. The kingdom of heaven belongs to people like them."
– Matthew 19:14
Jesus loves your children. One of the greatest responsibilities as a parent is to prepare your child for Heaven. Children need to be taught how to have a relationship with Jesus. In order to build a relationship with someone, we need to spend time with them, we need to do the same for our relationship with Jesus.
Having a regular church attendance does help us build relationships with God and others. Hebrews 10:25 says, "And let us not give up meeting together. Some are in the habit of doing this. Instead, let us encourage one another with words of hope. Let us do this even more as you see Christ's return approaching."
Though it is important to teach our children Jesus is with us everywhere, as parents we need to explain the importance and the benefits of being in church. We need fellowship with other believers. When your kids come to church, they get the opportunity to come to know others who also love Jesus and they can encourage one another when things get difficult. Make a declaration to have your family come to church. 
Love and honor your children…
Fathers, don't make your children angry. Instead, instruct them and teach them the ways of the Lord as you raise them.
– Ephesians 6:4
Discipline your children while you still have the chance; indulging them destroys them.
– Proverbs 19:18
Loving and honoring your children is not giving into all their demands. Loving and honoring them is pointing them to righteousness. The best way for a parent to love and honor their children, is to love and honor God. Matt 22:37 says, "Jesus replied: "'Love the Lord your God with all your heart and with all your soul and with all your mind.'"
Discipline is a part of godly parenting. Discipline is showing love to your child, not hate. It should be done in a loving way, never discipline out of anger, if you are angry, ask your child to wait and you take a break in prayer. Then come back to your child, explain what was done wrong and why it is wrong. After you have explained, give your discipline. Make sure the discipline matches the crime, for example don't ground them for a month, for spilling a cup of milk. When you give a discipline, follow through. Don't give empty threats, whatever you say, do.
Encourage your children…
We should help others do what is right and build them up in the Lord.
– Romans 15:5
Be an encourager. To encourage others is to build them up, to give them support. In Acts 11, we see Barnabas, who was an encourager. He took Paul with Him on the first mission trip, even though Paul was a new Christian and was previously known for killing Christians. Later, when John Mark wanted to join them for the second time, Barnabas left his partnership with Paul, to encourage John Mark to continue to preach the gospel, even when John Mark failed the first time and went home on the first mission trip. Your kids will fail, we all have, it's part of life, but that doesn't mean they are failures. They need to be encouraged to try again. When you encourage your children, it shows them that you believe in them. Give them your support and help build them up so they can have the confidence they need to do the will of God.